In Captivity
Edit
6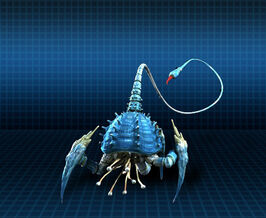 4 feet
60 - 80 lbs
Recent Sighting(s)
Edit
Honolulu, USA; Transylvania, ROMANIA and Lakewood, USA
Troop Notes
Edit
"A three-legged scorpion monster with a deadly stinger."
Special Abilities
Edit
Venom causes death or paralysis
Produces incendiary pods
Appearence(s)
Edit
Ad blocker interference detected!
Wikia is a free-to-use site that makes money from advertising. We have a modified experience for viewers using ad blockers

Wikia is not accessible if you've made further modifications. Remove the custom ad blocker rule(s) and the page will load as expected.