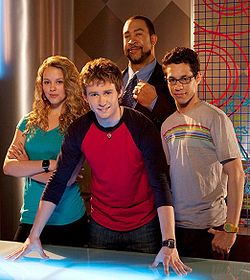 Welcome to The
The Troop wiki is a collaborative website about your topic that anyone can edit! All about The Troop show on Nick.
The Troop
Edit
The Troop is a secret international group that's soul perpuse is to portect the world from monsters. The show fallows the battles of the Lakewood Troop: Jake Collins, Hayely Steele, and Felix Garcia. Along with there adviser Mr. Stockly. Also seen in the show is the J-Troop: Keiko Tanaka, Akira Ito, and Yuki Kobayashi. There adviser is unknown. The curent Troop international Leader is, Dr. Brandenburg Who is a world renowed expert on fighting tenticled monsters.
List of Episodes
Edit
Do The Worm
Forest Grump
There's no I in Monster Hunter
Welcome to the Jungle
Pajama Game...of Death
Tameing of the Cube
No More Master Nice Guy
The Great Pumpkin
Tentacle Face
Lost in Translation
The Good, the Bad, and the Ickie Doll
The Substitute
Unpleasentville
My Gus is back and There's Going to be Trouble
Speed
I,Monster
A Moth to the Spotlight
Vampsters
Snarked Up
Itty Bitty Baby Dragon
The Wrath of the Wraith
Hayley and Felix on the Side
Double Felix
Who is Dr.Cranius
Next Stop:Lakewood
Latest activity
Edit
Ad blocker interference detected!
Wikia is a free-to-use site that makes money from advertising. We have a modified experience for viewers using ad blockers

Wikia is not accessible if you've made further modifications. Remove the custom ad blocker rule(s) and the page will load as expected.